FROM: Norbert Orlewicz
WHERE: Vancouver, Canada
Dear Home Business Owner,
After 6 years of desperately trying to build my home business... my very best month was $167.
I was embarrassed. I was in pain. I was ready to quit.
And then one day I stumbled across a little 'secret method' they wanted to keep hidden that allowed me to position ME as the authority.
After 6 years of struggle I was skeptical to say the least, but I had nothing to lose.
Within 48 ours of applying this new-found 'secret method,' I had my very first conversation where the prospect on the other end actually said...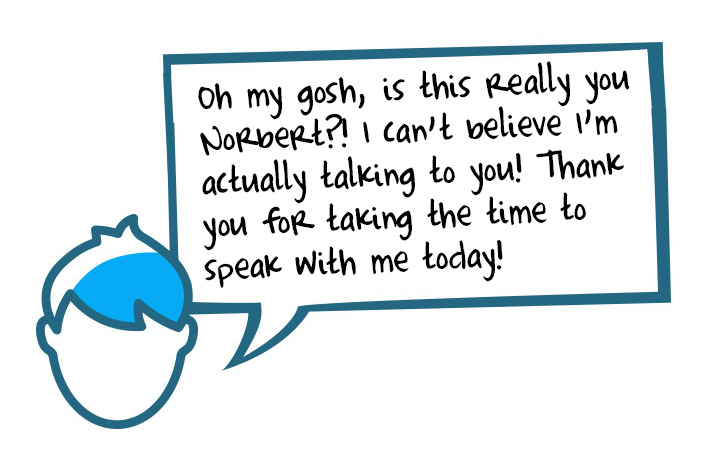 Imagine my awe and amazement after enduring 6 years of chasing, convincing, cold-calling, rejection, and pain... to now getting on the phone with people who actually want to speak to me and BUY from me?!
This 'secret method' allowed me to instantaneously become the hunted instead of the hunter, and the flood gates to unlimited leads and sales opened up.
What I'm about to share with you transformed my business forever, and it can do the same for you.
First, let me ask you a question...
HAVE YOU EVER LOOKED AT YOUR BUSINESS AND THOUGHT TO YOURSELF, "WHY AREN'T MORE PEOPLE BUYING MY PRODUCTS & SERVICES?"
You are NOT alone.
HOW MUCH IS IT COSTING YOU IN TIME, ENERGY, AND MONEY BECAUSE YOU HAVEN'T YET ESTABLISHED YOURSELF AS AN AUTHORITY IN YOUR INDUSTRY... AND THEREFORE YOU'R NOT HITTING YOUR SALES TARGETS AND INCOME GOALS?
We feel your pain...
You've hired the coaches, you've bought the courses, you've attended the webinars, and you've done everything you can to find an answer to the one question that is still haunting your dreams...
"Why am I not making the money I want with my home business?"
And the answer is clear if you simply look at 100% of all the leaders you love, adore, and follow online today...
After 10 years of developing leaders, we've discovered ALL our 6-figure+ success stories have 3 'expert attributes' in common that predict success:
They position themselves as the AUTHORITY
They brand themselves as LEADERS in their niches
Therefore they have gained INFLUENCE with their audience
THE 'AUTHORITY' SECRET FOR LAY-DOWN SALES CAN BE YOURS
We're going to help you acquire these 3 must-have 'expert attributes' that predict success...
Even if you're brand new and never made any money in your business before!
IMAGINE being able to attract interested prospects to you every single day who view YOU as the Authority, and therefore are pre-sold on your products & services before they even talk to you?!
When you become the Authority in the marketplace you will get customers, sales and sign-ups rejection-free without chasing, convincing, or cold-calling.
So let us ask YOU a few questions...
How many people are passing up on your coaching & consulting services because you have no authority, and therefore can't effortlessly close sales... yet?
Are you tired of spinning your wheels on social media in dead-end conversations trying to convince tire-kickers because you have no influence... yet?
How many people are NOT buying your life-changing products and services because you aren't perceived as a leader in your industry... yet?
A lack of seeing YOU as an AUTHORITY may already be costing you a great deal...
Which is why we created the 'Instant Authority Method'...